-----
There're some Mamoru Oshii book lists on the Internet, but they don't have detailed explanation about the contents. My Mamoru Oshii book collection is far from complete, but I'd like to write some short summaries for each of those books.
I apologize in advance for grammmatical errors or some misinformation.
-----
title: THE ANALYSIS OF 攻殻機動隊
(THE ANALYSIS OF GHOST IN THE SHELL)
release: 11/22/1995
publisher: Kodansha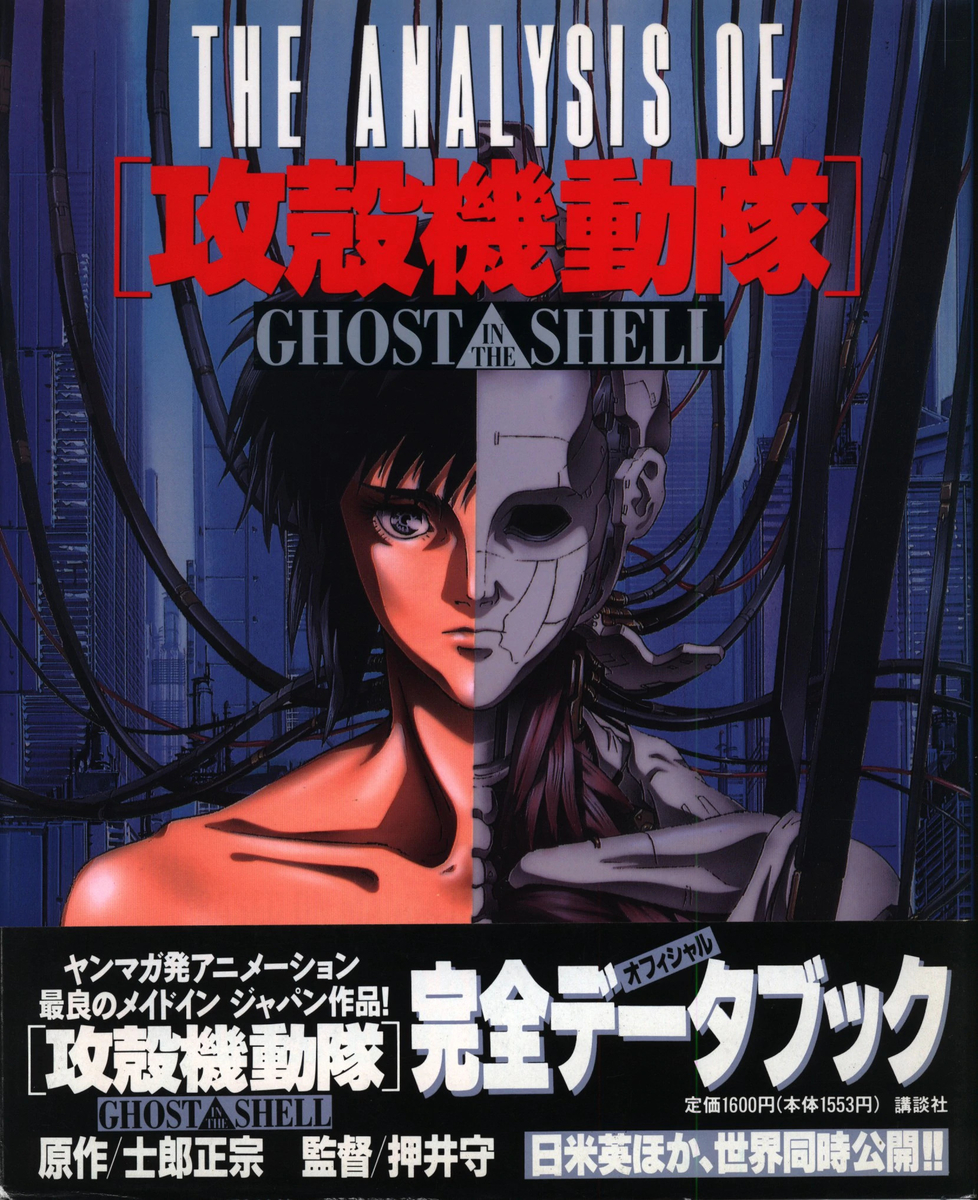 [table of contents]
introduction
summary of the film
comment about guns by Mamoru Oshii
design sheets of guns and layouts of gun fight scenes
comment by Kikuo Notomi
design sheets and layouts of Section 9's lab
comment by Takashi Watabe
comment about environments by Mamoru Oshii
comment by Atsuhi Takeuchi
design sheets and layouts of cities and market
design of machines
comment by Yasuhiro Ogura
digital effects (Seiichi Tanaka, Kaoru Matsumoto, Kenji Nagao)
color design (Kumiko Yusa)
photography (Hisao Shirai)
design sheets and layouts of museum
design sheets and layouts of tank
comment by Hiroyuki Okiura
editor's afterword
staff & cast list
[review]
This is a database of Ghost in the Shell.
It is probably only one book that covers layouts of the film. Unlike Methods series, it doesn't include Oshii's comment on each layout. Instead, the main writer called Toru Nozaki gives comments. They're pretty helpful to analyze the film's visuals. The design sheets are printed in large sizes. If you want to check the weapon designs, you should read this book.
The gun fights of GitS was supervised by a very famous effect designer called Kikuo Notomi. (He has joined Oshii's films from the time of The Red Spectacles. Some people might remember him for Takeshi Kitano's films.) This book shows how Notomi influenced the gun fights of GitS.
Plus, it includes detailed explanations about the digital effects. People say that GitS staff utilized some digital tools, but the details and the process are mentioned only in this book, as far as I know. For example, Motoko's camouflage was made by digital compositing, but the terrorist's camouflage was made by super impose effect. That difference implies the technological gap between Motoko and the terrorist. I've never seen that kind of explanation in other books.
There are many books about INNOCENCE thanks to Studio Ghibli's (or Toshio Suzuki's) advertisement. However, there're not many books about GitS. In that sense, it is one of must-buy books for Oshii fans.